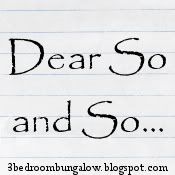 Dear Landlord,

I do understand that you want to raise the value of this house and really appreciate that you waited with putting a new radiator into the upstairs apartment until the break so almost nobody would be here.
I also understand that you had to let all the water out of the system in order to connect the new radiator to it but the sound of the water coming back into the radiators and pipes drives me NUTS.
I feel like I live in a friggin' fish tank.

blubb
LTCC
-------------------------

Dear parents of the screaming toddler yesterday at the store,

you guys made my day and I enjoyed seeing you!
Seriously!!
Why?
Because I could walk away and go back into my quiet apartment.

I don't heeear ya!
LTCC
--------------------------------

Dear brain,

why can't you just suck in all the chemistry knowledge overnight?
Might it be helpful if I slept on the book?

need to know it all
LTCC
------------------------------
Dear neighbors,

I have astonishing news for you!
Sit down and listen carefully...
These weird things on doors, called locks, are actually there to keep the door close.
I do not appreciate waking up at stupid o'clock, going to the bathroom, wondering why it is so cold and check and find the front door open!|
That's not why I pay for heating.
Plus don't come to me whining when you find yourself mugged one day.

Annoyed LTCC
-----------------------
Dear doctor's office,
as of Wednesday you lost a valued customer.
I am not that kind of person that runs to see the doctor if there is as much as a cough and a runny nose.
But if I tell you that breathing hurts, then I do get mad at you if you hint that you think I might have just come into your office to get a sick day.
I am a student, I am off for months. DUH.
And it doesn't help if your front desk b*tch lady treats my like I tried to kill the pope when I asked her to print out a referral.
How am I supposed to know that I have to "order" referrals right when I get there if nobody told me so??
But you are right, during those two hours that I spent in the waiting room, you could have written dozens of referrals, my bad, I should have thought about that earlier.
Plus, I don't like the concept of your office, that patients get to see whoever is available at the moment.
There was one nice lady which I saw when I was sick in November, but I didn't get to see her since. The other ones...forget about them.
But that will change, I will not come back to your office, there are plenty of doctors in town.
good riddance
LTCC

------------

Dear Mom,

I look forward to seeing you tomorrow! =)
Drive safe!

Love
LTCC
-----------------------

Dear readers,

for more dear so and so go and check out Kat's blog!

Thanks for reading!
LTCC