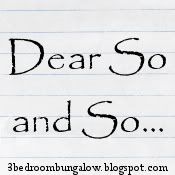 Dear
Single Lady
,
here is to you and your recently earned degree!
I am SO SO happy for you! (and proud of you)
I still remember the time when you graduated school and decided what to study and where to move and so on.
And I remember the day, when you moved to your university town and we met and watched a hockey game.
Good times! :)
It seems like it was yesterday and yet we both have come such a long way since then.
Congrats again!
instant student
-----------------
Dear readers,
for more Dear So and So hit the button up top!
instant student